BreezingForms at a glance
All Fields You Need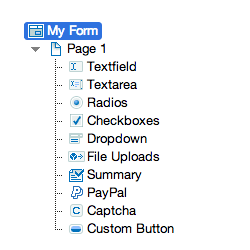 Choose from up to 17 different field types to perform even the most complex tasks.
Use one of the existing 3 form builders, each suiting everybody's taste. If you need to get things done really quick with the full power of BreezingForms, go for the QuickMode!
Demo
Responsive Forms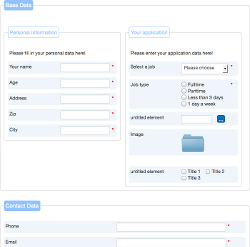 Create great looking responsive forms without any line of HTML and CSS. Full Twitter Bootstrap support! Choose from one of our many existing form themes, you'll always find something that fits. If you are an expert, you may of course roll your own theme.
Demo
Multipage Forms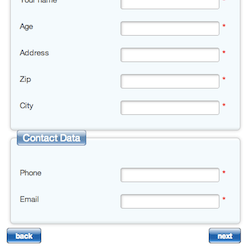 Arrange and collect data in multi-steps. Ideal for surveys, form based applications, large or complicated forms.
Your users may even come back at a later point to finish their submissions.
Demo
Although BreezingForms (free) is free to download, considering a membership can be useful to you. Especially if you need additional features of the pro version or professional support, you might want to consider a membership. Please see the options below if you are interested.
Get these stunning features only in the Pro version of BreezingForms:
Invisible reCaptcha: Secure your forms without user interaction
Zapier Plugin: send form submissions to hundreds of apps, such as Salesforce, Google Sheets and many many more!
Bootstrap3 support: displays your form with the same styles like your Bootstrap3 website template
Digital Signatures: Let your users sign a form using their signature
Stripe: Offer credit card payments
BreezingCommerce integration: Use BreezingForms Pro as custom fields provider & product configurator
Scrolling OnePage Forms
Native multi-language support, no 3rd party extension required!
Joomla! built-in Bootstrap2 / responsive theme engine. Works in both Joomla 3.x and Joomla 2.5 (even if no bootstrap template is in use).
Refurbished classic theme engine (incl. responsive). Choose yourself what engine to use!
Native Joomla! tag support. You can tag your form submissions and generate tagged content (articles)
HTML5 uploads with upload progress (desktop, iOS®, Android®) and large file uploads
Telegram® integration (send notifications to chats or group chats, including attachments like photos and videos)
Google Drive® Spreadsheets support
Salesforce® integration
Dropbox® integration
CSV records import
Mobile web app support (displays your forms like web apps)
Additionally, our Lifetime Subscription includes many benefits like access to all of our current and future commercial Joomla!® extensions, Joomla!® templates, WordPress® plugins, BreezingForms themes, BreezingForms form apps + 2 years of professional support.