Hi there,
this is the first roundup about the use of CoinStudio and Bitcoin regarding its recent price action and further outlook - right here at Crosstec.
Please note the we are not giving you any trading advise but displaying the recent results of CoinStudio Lite and personal opinions about the current market situation!
If you don't know what CoinStudio Lite is, then please check out this page or visit our Discord.
The Situation
About an hour ago (11:45 PM UTC), we saw a nice dump from 6435 USD all the way down to 6269 USD with a minor bounce forming on the 15 min. chart. 
However, one could fall for thinking it would take another run up in an instant as the market for Bitcoin has been on the more friendlier side recently.
Since CoinStudio's Overall Fomo Meter keeps being constantly on the FUD-side, we are not thinking any notable bounce from here will happen but actually might keep going south.
We are still in a bearish market, so this means we are looking for CoinStudio lows at level 2 which currently displays a price-point around 6050 USD: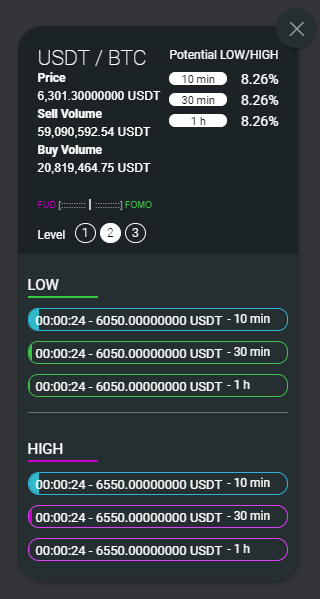 If that hits and this price-level keeps being good support as it has been in the past, we have two options:
Staying conservative and go for CoinStudio's level 1 highs, which are currently at 6200 USD
Go for level 2 highs if 6200 USD gets broken, which would mean a price-point of 6550 USD and an 8% gain potential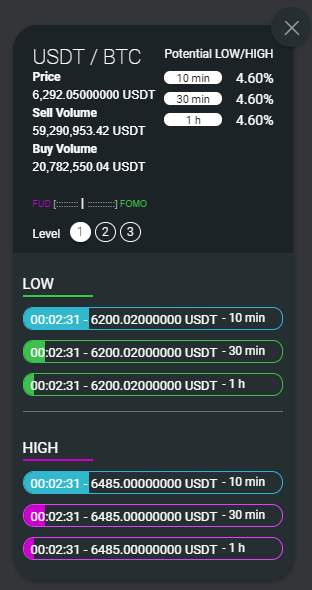 We are making sure to set our stop-losses properly in case it drops lower than 6050 USD and re-visit CoinStudio's level 2 or even level 3 lows if a potential further dump leads to a longer lasting downtrend.
Summary
A further Bitcoin dump to level 2 lows at 6050 could reveal a 8% potential to 6550 USD if the 6200 USD mark is broken. In case of a fail in support of 6050 USD, a stop-loss and further monitoring of level 2 and level 3 lows are recommended.