Breezing Forms is THE form builder for Joomla!® that combines modern techniques with enterprise features. We are bringing you list of the top 10 reasons why Breezing Forms Pro Is the Joomla! forms extension of your choice:
Breezing Forms Pro is the only forms extension that goes the extra mile and always light-years ahead of the competition. Breezing Forms Pro constantly adds new useful improvements and features spear-heading with innovations, moving your form applications forward.
Multipage forms and our new OnePage scrolling forms will not just organise your forms but make them also look pretty cool and modern.
17+ form field types and their corresponding options make sure you won't hit any road blocks. Additionally, you may extend your forms through custom setups without the need for hacking.
Send form submissions to cloud services such as Google Drive, Dropbox, Telegram, Salesforce and more.
Suitable for small, up to large and complex forms. Breezing Forms Pro scales with your requirements.
Focus on backwards compatibility makes sure your forms will keep working years after you created them.
Perfect balance between ease-of-use and feature-richness. Get stunned by what's possible with Breezing Forms Pro.
CCK integration with our extension ContentBuilder. A perfect combination to get even more out of your users' form submissions.
Highly motivated support and development teams behind Breezing Forms Pro makes sure you'll be satisfied and updates make it into your site quickly.
You'll always get something on top: when purchasing Breezing Forms Pro, you're also given access to all of our current and future components, plugins and modules. For free.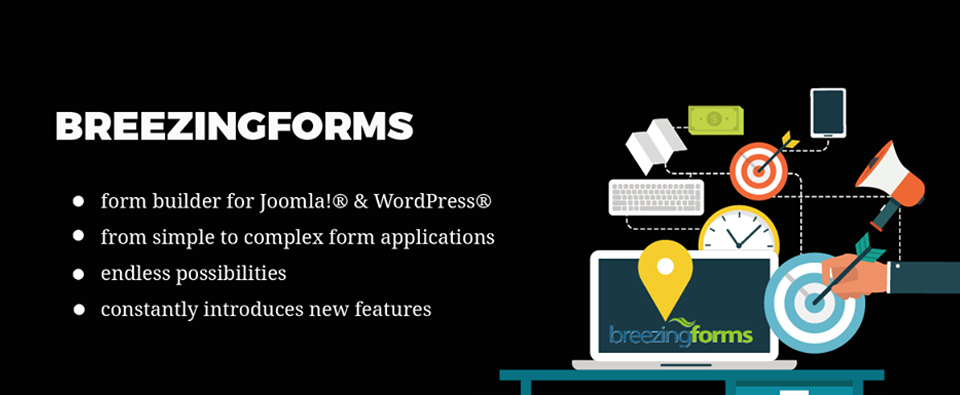 Find out about more great Breezing Forms features HERE.