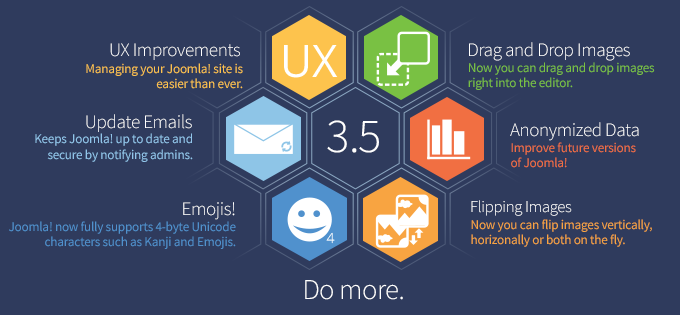 Joomla!'s new forward thinking development strategy appears to be a a fruitful one. As one of the first CMS out there, it's going to support PHP 7 right away with the upcoming Joomla! 3.5 update.
Be prepared for a faster web as PHP 7 promises an up to 14x faster script execution. Yes, PHP7 might even outperform Facebook's HipHop (HHVM).
Included with the Joomla! 3.5 update are also following features:
UX Improvements
Editor images drag 'n drop and flipping
Complete set of modern emojis
Update notifications
The UX improvements will mostly focus on shortcuts to important repetitive tasks, while a long awaited editor images drag and drop makes it finally into Joomla!. As goodie you will be able to flip your images and might save you a minute here or there for your articles.
From the set of available emojis you can expect they will also find their way into 3rd party extensions, such that extensions don't need to carry their own sets around no longer.
Update email notifications will let you know when it's time to upgrade your Joomla! websites.
It's awesome to see that Joomla! is able to serve as a CMS that scales with your requirements. That will even be extended with Joomla! 4, which's development just began. 
Ah, before I forget, before Joomla! 4 there will be a Hypermedia (REST) API for web services, scheduled for 1st quarter 2016.