Ever wanted to use the power of BreezingForms and store your form submissions from your website into the cloud, working with others on the collected data?
The existing Google form builder is good enough for very simple and limited forms, but if you need some freedom and more complex forms, then you might be happy to read that it is now possible to combine BreezingForms and Google Drive Spreadsheets.
Starting with BreezingForms 1.8.1, you'll find a new addon in the package zip file called GData that allows you to easily store your form submissions into the cloud.
You can also watch our Google Drive Spreadsheets tutorial video here.
Install and enable this plugin in the Joomla! extension manager and you'll get a new tab in the form's advanced settings called "Google Drive".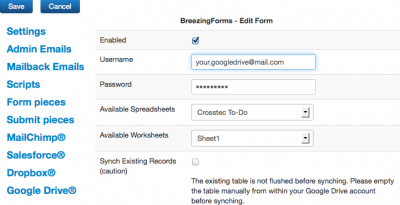 After entering your Google login data, you may choose from your already existing spreadsheets and all worksheets that are associated with the selected spreadsheet.
After choosing a pair of spread- and worksheets, you may now assign your form fields to the corresponding fields in your spreadsheet at Google Drive. Please note, that the first row of your Google Drive spreadsheet represents the headers. This is very important, otherwise the field's won't show up. Also make sure you don't use special characters such as blank and hyphens in your header titles.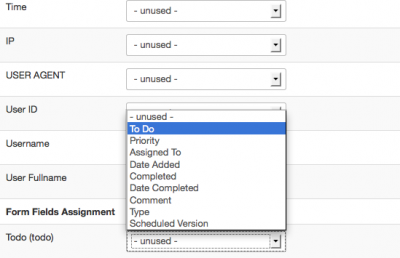 After the fields assignments, you and your collaborators are ready to test the submissions and see in real-time how your spreadsheet is receiving the data. From there you may be able to do all kinds of spreadsheet operations that Google Drive allows, such as calculations, exports to different formats and data presentations. So you basically have another record management besides the existing one but located in the cloud.
Please note that the Google Drive integration also allows synchronization of already existing records. So if you already collected some data, you may copy them over to your Google Drive spreadsheet. Be aware that the synchronization might take some time and the regular PHP execution time is limited to 30 seconds. So please make sure the max_execution_time in your php.ini is set good enough to cover the data export.

The Google Drive integration also supports meta data assignments like timestamps, dates, usernames and so on, so you will be able identify from where and when a submission has been done.
BreezingForms and Google Drive Spreadsheets is a solution that will add more value to your and your customer's business and helps taking it into the cloud while still keeping control over the technology of your choice.
The Google Drive Spreadsheet integration is bundled with BreezingForms 1.8.1 and available from here.