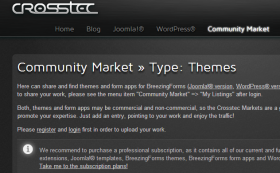 Have you ever created forms or a theme for BreezingForms? Then you may like to share your work with others.
Maybe you didn't know it, but Crosstec's Community Market is intended for just this -- sharing forms and form themes with the community. No matter if you would like to sell your advanced form apps and themes or just contribute them to the community for free, the market is the right place to do so.
Register for free here at Crosstec, head to the Community Market (My Listings), add your listing and after a short approval time, enjoy the traffic. Tens of thousands of fellow BreezingForms users will appreciate your contributions!
People like those from polishedgeek.com with their stunning BreezingForms for Virtuemart plugin can surely tell that taking part in the Community Market can help to promote your expertise in many areas.
If you never created a form or a theme before, just find out about in our documentation and you will soon be ready to submit your listing.